Something New Is Haunting Dark Woods!
Dark Woods offers an ever-changing, fun-filled Halloween experience with roaming creatures of the night and mayhem guaranteed to give you a fright! If you came out for the 2015 Season and think you've seen it all, think again. Each season offers new chills and thrills, making the experience unique every time you enter the woods.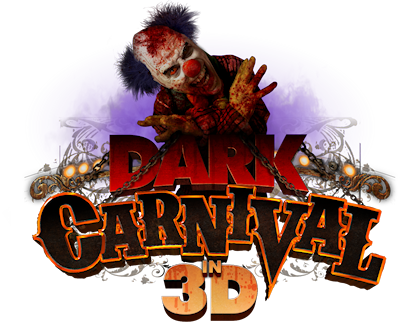 Enter a mind-bending, terror-filled world in Dark Woods' new 2016 thriller. Dark Carnival in 3D, brings a new brand of terror to the Big Top with a 3D Blacklight Haunt. Enter Boogie's nightmare and bring a little horror home with you. Dark Woods Haunted Attraction presents an immersive themed experience with character actors, detailed costuming, realistic sets and Hollywood-style special effects.
Click here for more on Dark Woods' Dark Carnival in 3D – Louisiana's ONLY ChromaDepth®  blacklight attraction! 
Closed For Refurbishment
Dead Fall Trail will be CLOSED for the 2016 season for remodel and refurbishments. This refurbishment is a temporary closure due to storm and flood damage. Dark Woods' Deadfall Trail is scheduled to reopen for the 2017 season.
Winding over a quarter-mile through the deepest recesses of Dark Woods you'll find Dead Fall Trail, an outdoor journey into the tale of the Butcher Bros.