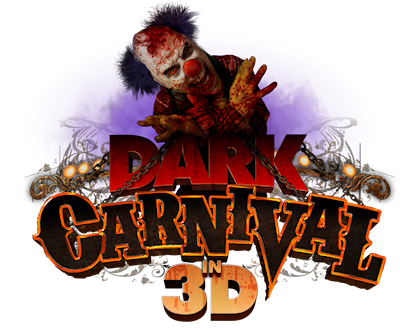 A traveling carnival camped out at Dark Woods for the winter as it toured Louisiana's rural communities. After encountering the evil lurking in the forests the star of the show loses his marbles.
With the ringmaster away, Boogie is bringing a whole new brand of terror to the Big Top. This masquerading maestro of mischief sets the stage  with the Dark Carnival 3D. Enter Boogie's nightmare in this 3D Blacklight Haunt. Twist and turn through hallways and rooms full of crazed clowns and other denizens of the dark. Meet his band of merry misfits and carnival creeps.
Victims will be immersed in an experience unlike any other, complete with state of the art special effects, sounds and lighting in the area's first ChromaDepth® 3D attraction. Monsters are real and they come alive at night in the twisted halls of the Dark Carnival's maze.
And remember, Boogie thinks mayhem is a laughing matter.