Dark Woods Haunted Attraction is a seasonal special event at Dark Woods Adventure Park on Friday and Saturday nights October 1 through Halloween Night October 31.
For complete park and special event times see our Dark Woods Adventure Park Operations Calendar below.
Tickets purchased online or at the box office are valid for any open night through the current Halloween season unless otherwise indicated. Come early in the month to avoid long lines and waiting times.
Expect to wait in long lines the last two weekends in October!
Haunt Hours of Operation
Ticket Office Opens Nightly at 6:30 pm 1 hour before show time
Fridays – 7:30 pm – 11:00 pm
Saturdays – 7:30 pm – 11:00 pm
7:30 pm – 10pm October 31 Halloween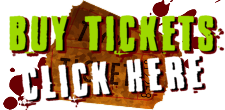 Things To Know
______
SEASONAL DATES
October 1-31
Fridays & Saturdays
______________________
TYPE
Event
______________________
PARKING LOT OPENS 30 MINS BEFORE OPENING
The attractions will stay open until either the last customer leaves Dark Woods safely, or they become trapped there forever, whichever comes first.
Buy Your Tickets in Advance
Online sales are only available while supplies last. The savings (listed above on select General Admission tickets) are only available by purchasing online. Discounts are not available at the Front Gate ticket booths.
Skip The Line with a FastPass Ticket
Skip the lines with our FastPass Ticket! Enjoy access to both the Dead Fall Trail and Dark Carnival 3D attractions on one discounted ticket price. Tickets are valid ANY NIGHT of the current Halloween season October 1 – October 31. Please read warning page prior to purchase of tickets or entrance to haunted house.
Ticket prices, park hours, and attraction availability subject to change without notice.
All performances and open times are weather permitting.
A processing fee applies to online orders.
Get your FREE photo with our Monsters and enter to win our Facebook Photo Contest.